---
The National Association of School Music Dealers represents retailers, manufacturers, and service providers who share a passion for helping school music students make music!!!


NAMM, the National Association of Music Merchants (NAMM), commonly called NAMM in reference to the organization's popular NAMM trade shows, is the not-for-profit association that promotes the pleasures and benefits of making music and strengthens the $17 billion global music products industry.
The NBA was organized for the purpose of promoting the musical and educational significance of bands and is dedicated to the attainment of a high level of excellence for bands and band music.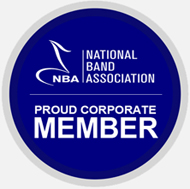 The Greater Yakima Chamber of Commerce is an organization that promotes pride in our diverse communities through positive, active leadership aimed at creating a cohesive, successful business climate in our County. - See more at:
Yakima.org
National Association for Music Education (NAfME), among the world's largest arts education organizations, is the only association that addresses all aspects of music education. NAfME advocates at the local, state, and national levels; provides resources for teachers, parents, and administrators; hosts professional development events; and offers a variety of opportunities for students and teachers. The Association orchestrates success for millions of students nationwide and has supported music educators at all teaching levels for more than a century.